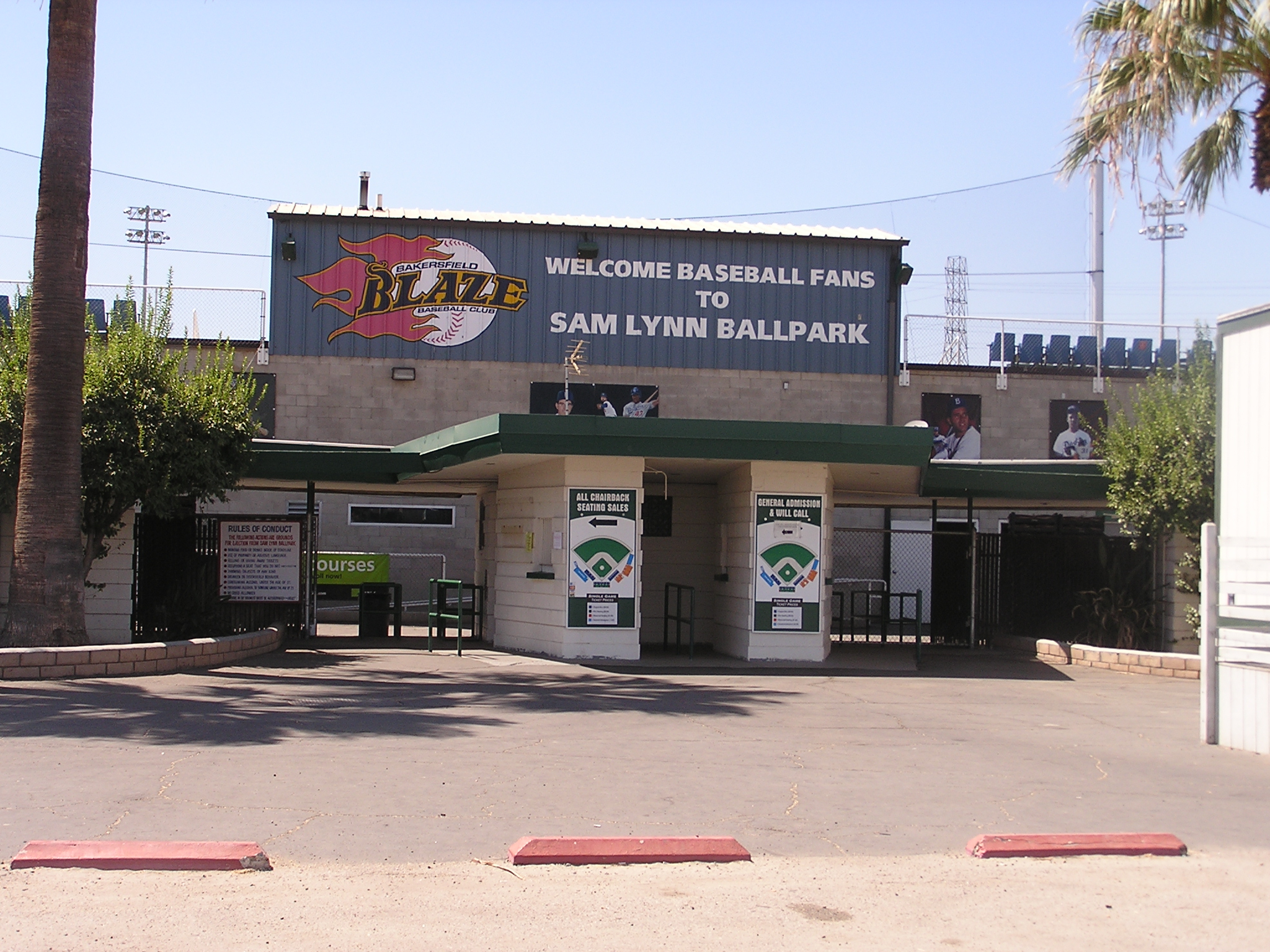 TEAM ::: BAKERSFIELD BLAZE
LOCATION ::: BAKERSFIELD, CALIFORNIA
MY FIRST VISIT ::: AUGUST 8, 2008
OPPONENT ::: VISALIA OAKS
LEVEL ::: CALIFORNIA LEAGUE 'A'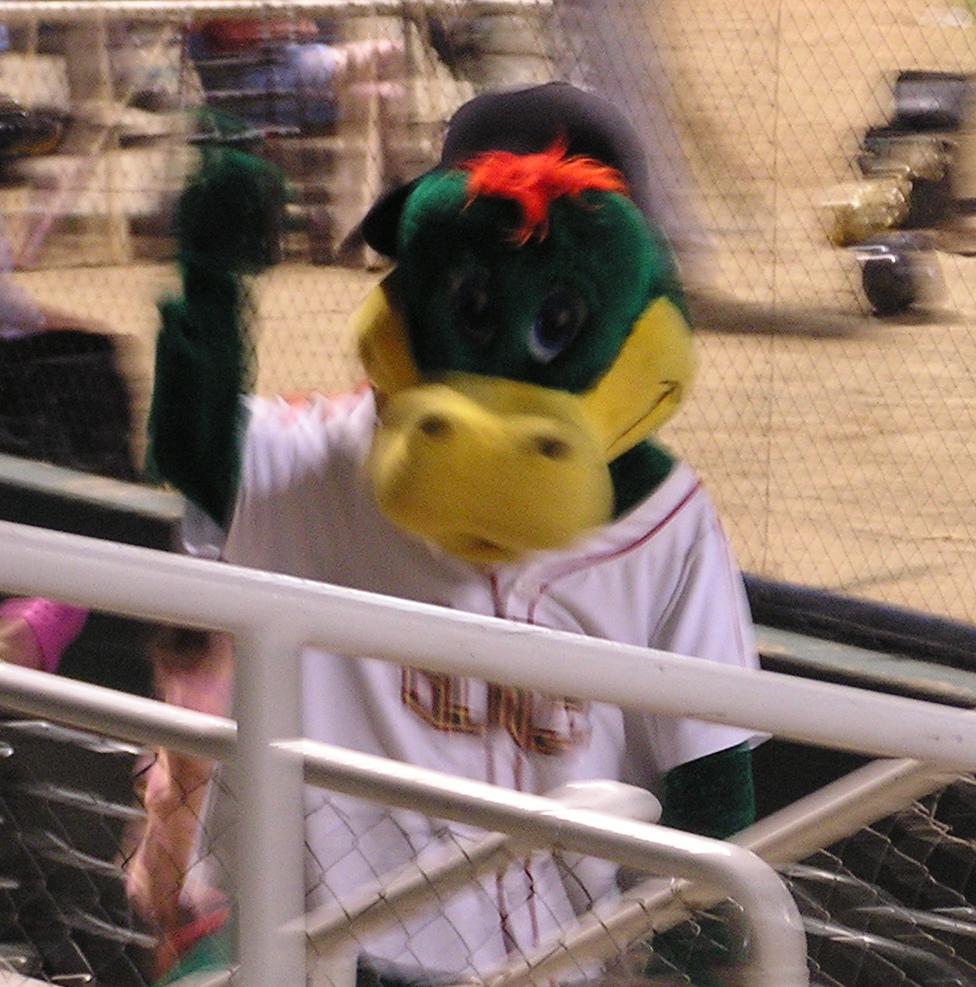 RATINGS
BALLFIELD ::: B
SCOREBOARD ::: C
FOOD ::: B
FACILITIES ::: C
MASCOT ::: B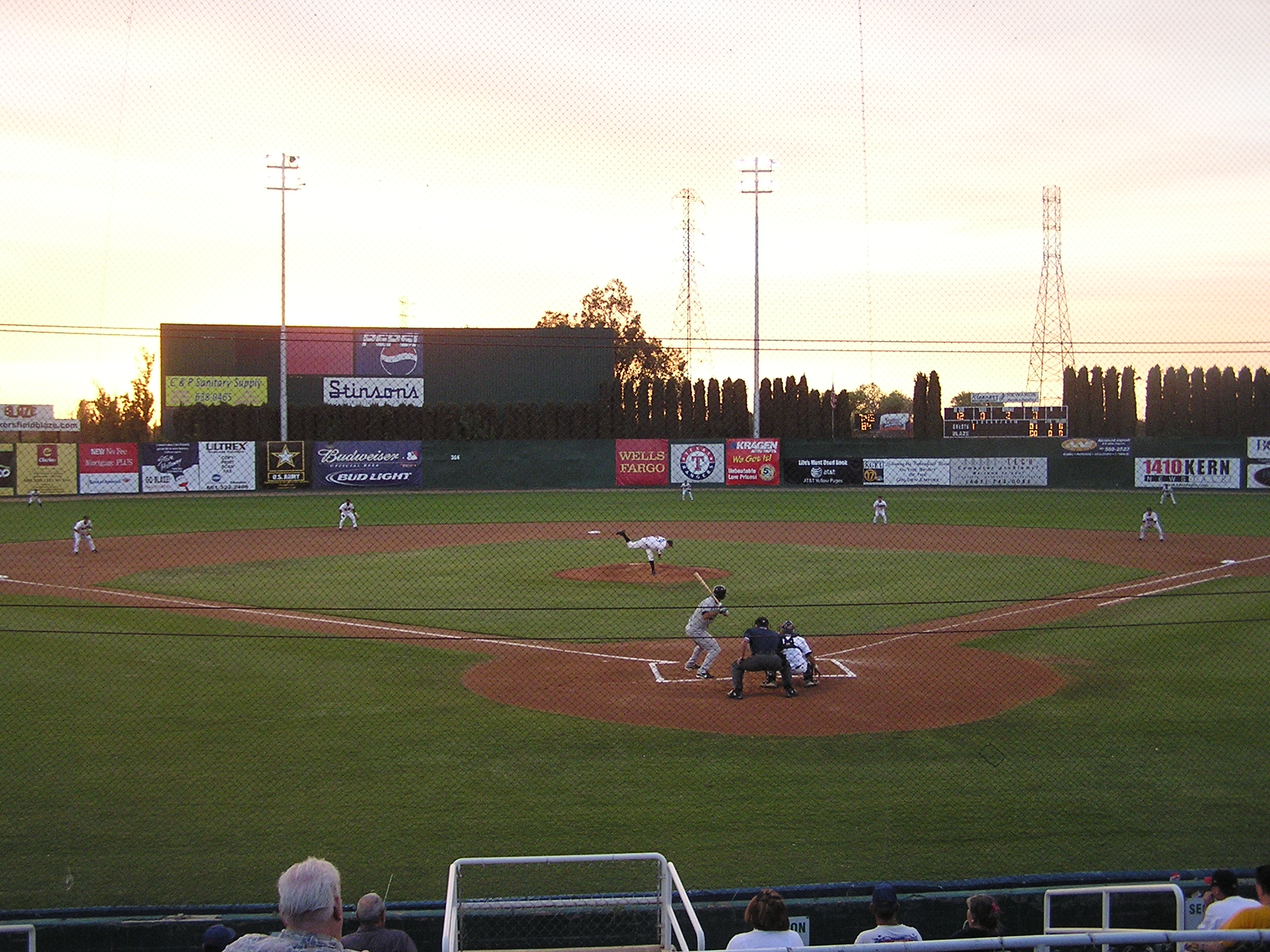 MY TAKE ON THE PARK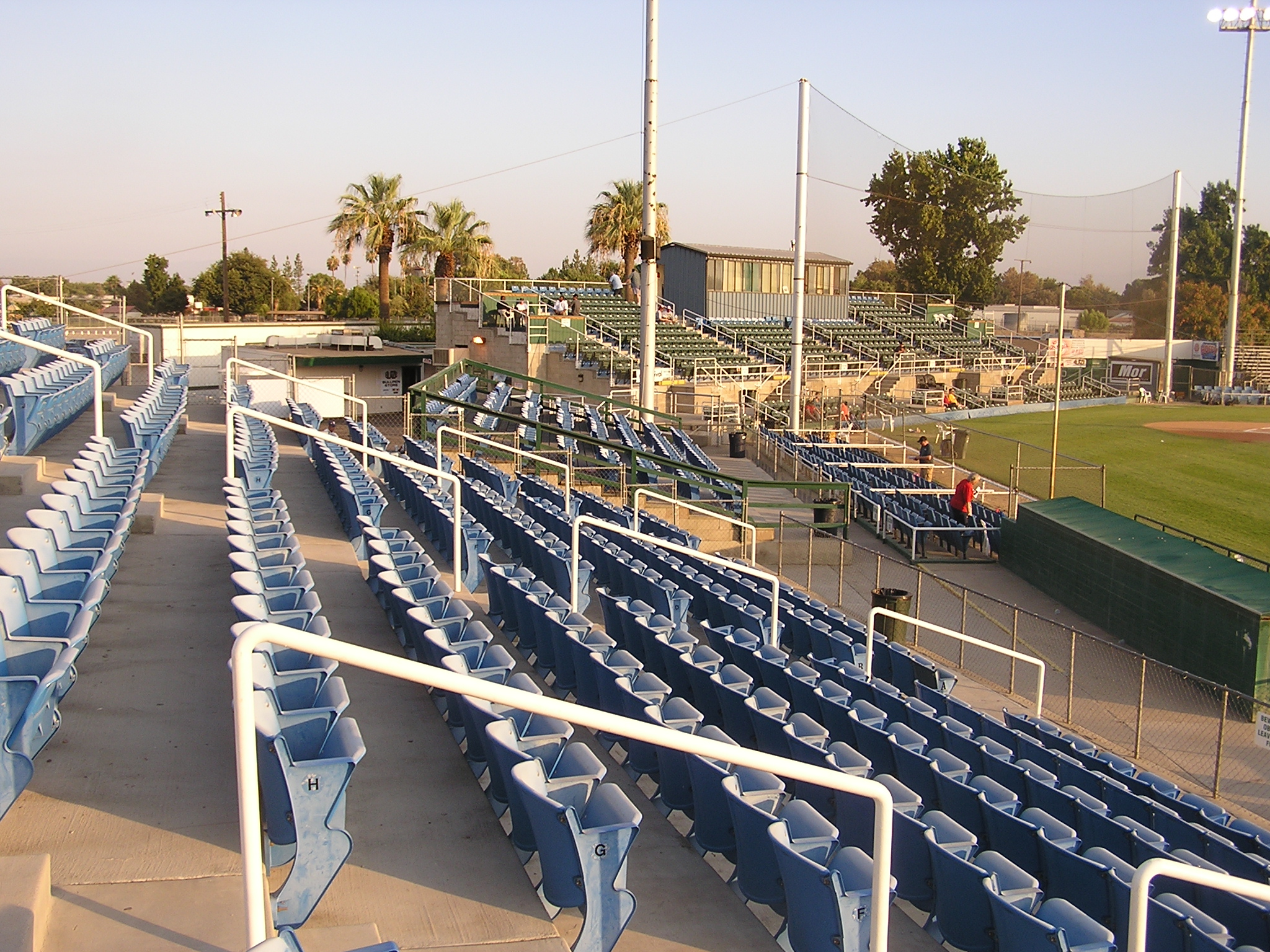 I MUST ADMIT BAKERSFIELD WAS NOT PART OF MY ORIGINAL TRIP AND I ENDED UP THERE ONLY BECAUSE THERE WAS A GAME AND IT WAS SOUTH OF FRESNO.

WHAT I FOUND IN BAKERSFIELD WAS A GEM OF A BALLPARK WITH AN INTERESTING HOOK.
BAKERSFIELD IS THE HOME OF "THE LAST GAME OF THE NIGHT."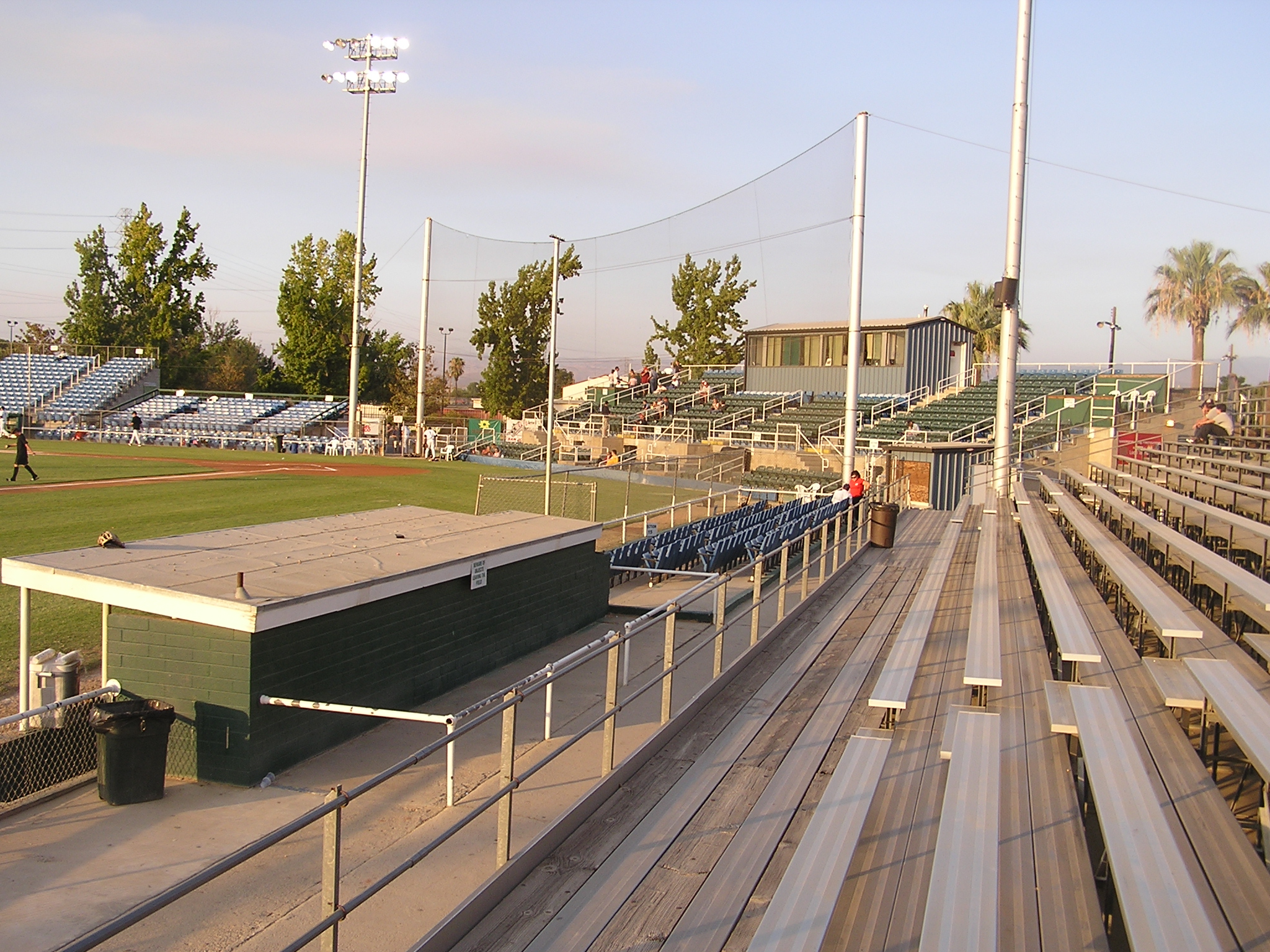 SAM LYNN BALLPARK IS LIKE WAHCONAH PARK IN PITTSFIELD, MASSACHUSETTS IN
THAT HOME PLATE FACES THE WEST. BUT HERE, UNLIKE PITTSFIELD, THEY DELAY
THE START OF THE GAME UNTIL THE SUN SETS BEHIND THE OUTFIELD WALL. GAME
TIMES HERE ARE SCHEDULED FOR 7:30 BUT IN LATE JUNE AND EARLY JULY, THESE
GAMES COULD START AT ALMOST 8:00.

BEING AN OLDER PARK, I EXPECTED MANY OF THE STANDARD OLD PARK
INCONVENIENCES. HERE IN BAKERSFIELD, THEY PUT IN NEW SEATS WHICH ARE
QUITE COMFORTABLE AND SOMETHING I HADN'T SEEN IN CALIFORNIA, FREE
PARKING HERE IN BAKERSFIELD.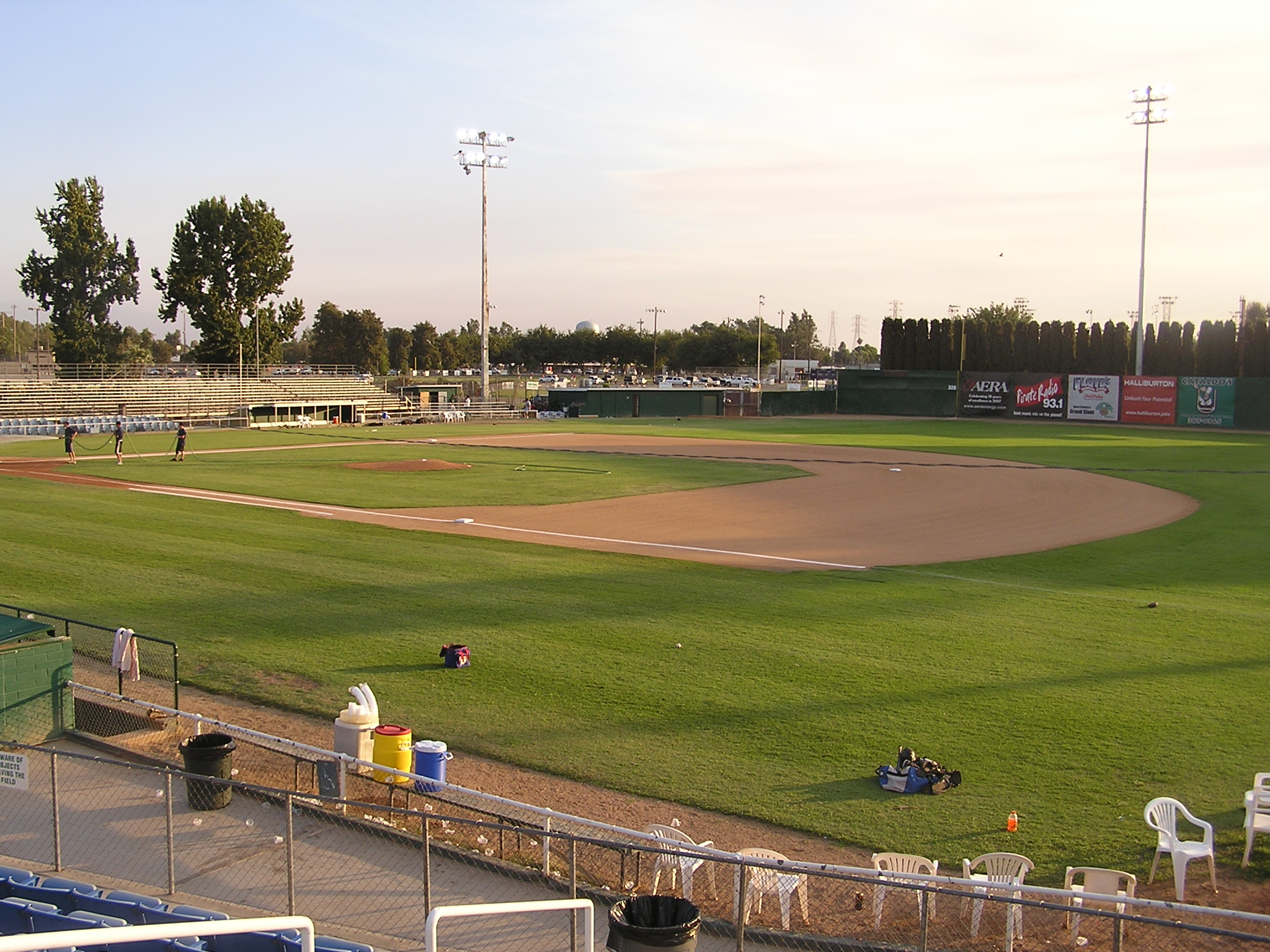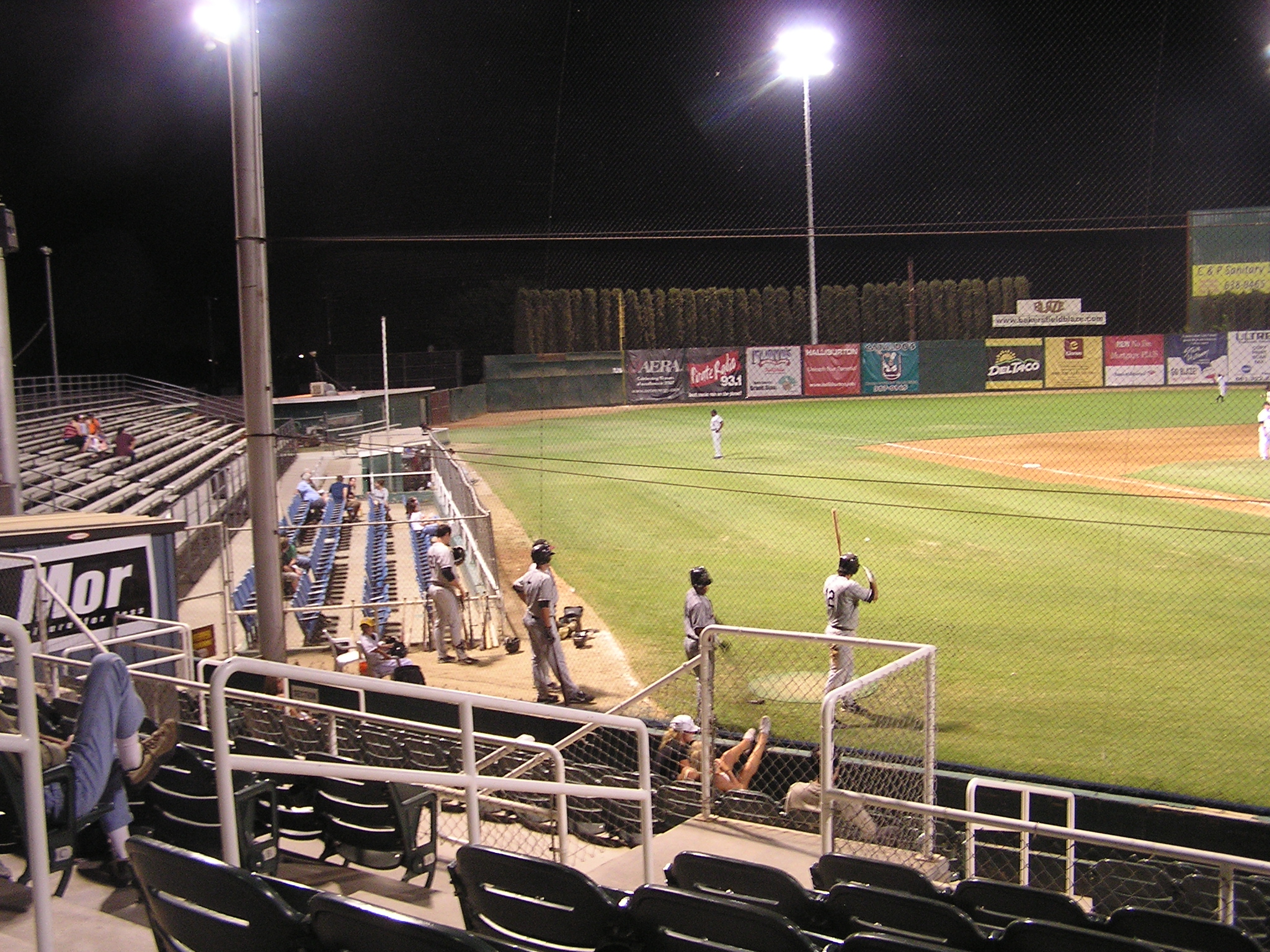 THE FIELD HERE IS QUITE ODD, THERE MAY BE MORE FOUL TERRITORY HERE THAN THERE IS IN OAKLAND. THE DUGOUTS ARE SO FAR DOWN EACH LINE I'M THINKING THE BULLPEN PITCHERS COULD SIT IN THE DUGOUT BEFORE THEY WARM UP. THE ON
DECK CIRCLES ARE ABOUT 50 FEET FROM THE DUGOUT MEANING A FEW BATTERS WILL HEAD OUT TO THE CIRCLE AWAITING THEIR TURN AT BAT.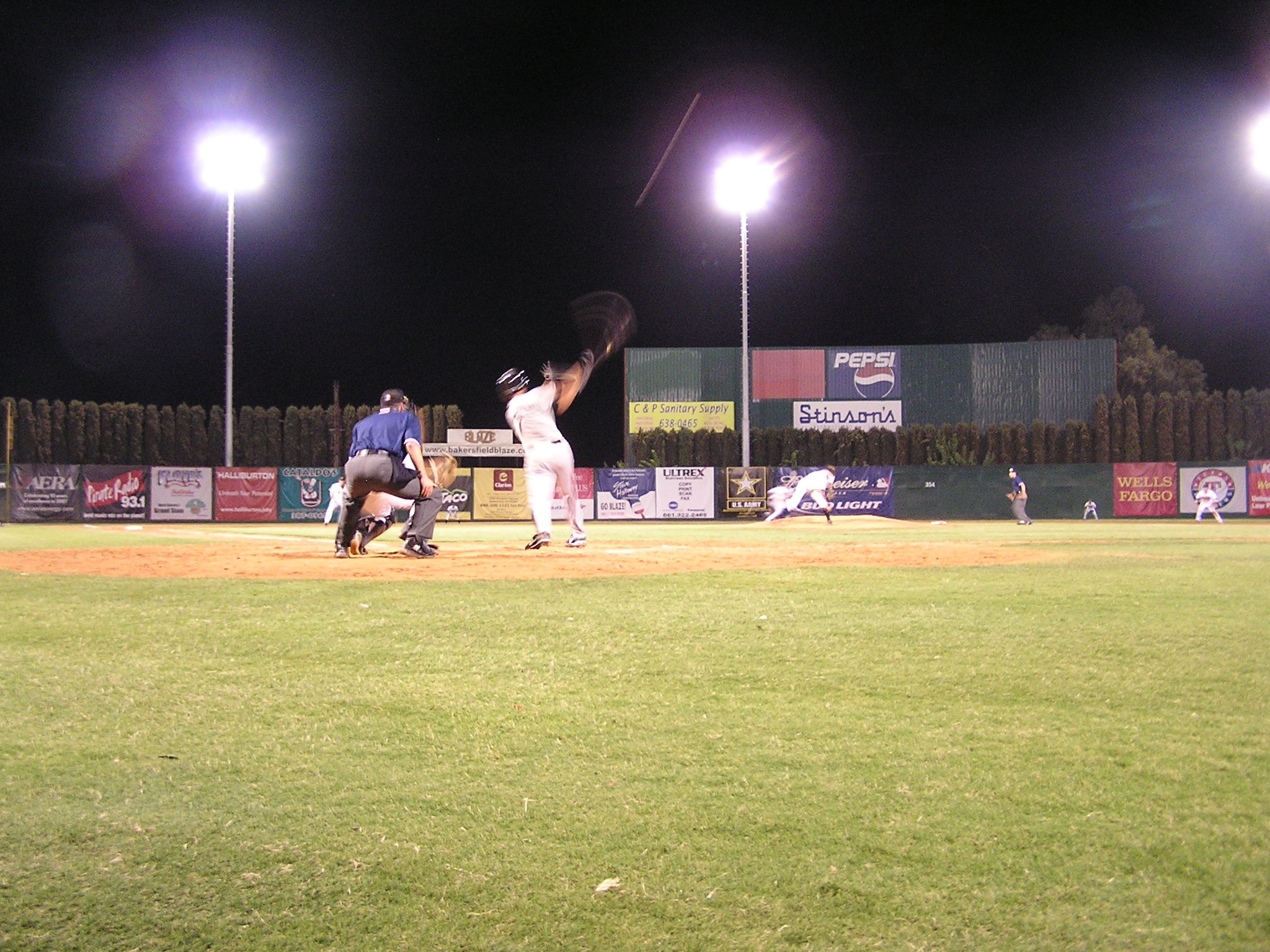 SAM LYNN BALLPARK IS CERTAINLY NOT FULL OF MODERN CONVENIENCES OR
AMENITIES. HOWEVER, SEEING ALL OF THE NEW PARKS AND SEEING THE STERILE
ENVIRONMENTS THEY PROVIDE, I HAVE TO SAY SAM LYNN BALLPARK IS A BREATH
OF FRESH AIR AND A PLACE I WOULD MOST CERTAINLY CONSIDER VISITING AGAIN.
AS AN ASIDE, THIS SUMMER WHILE SURFING THE NET AROUND MIDNIGHT, AFTER
ALL OF THE GAMES HAVE ENDED, I'LL HEAD ON OVER THE THE BAKERSFIELD WEB
SITE AND LISTEN TO THE LAST GAME OF THE NIGHT.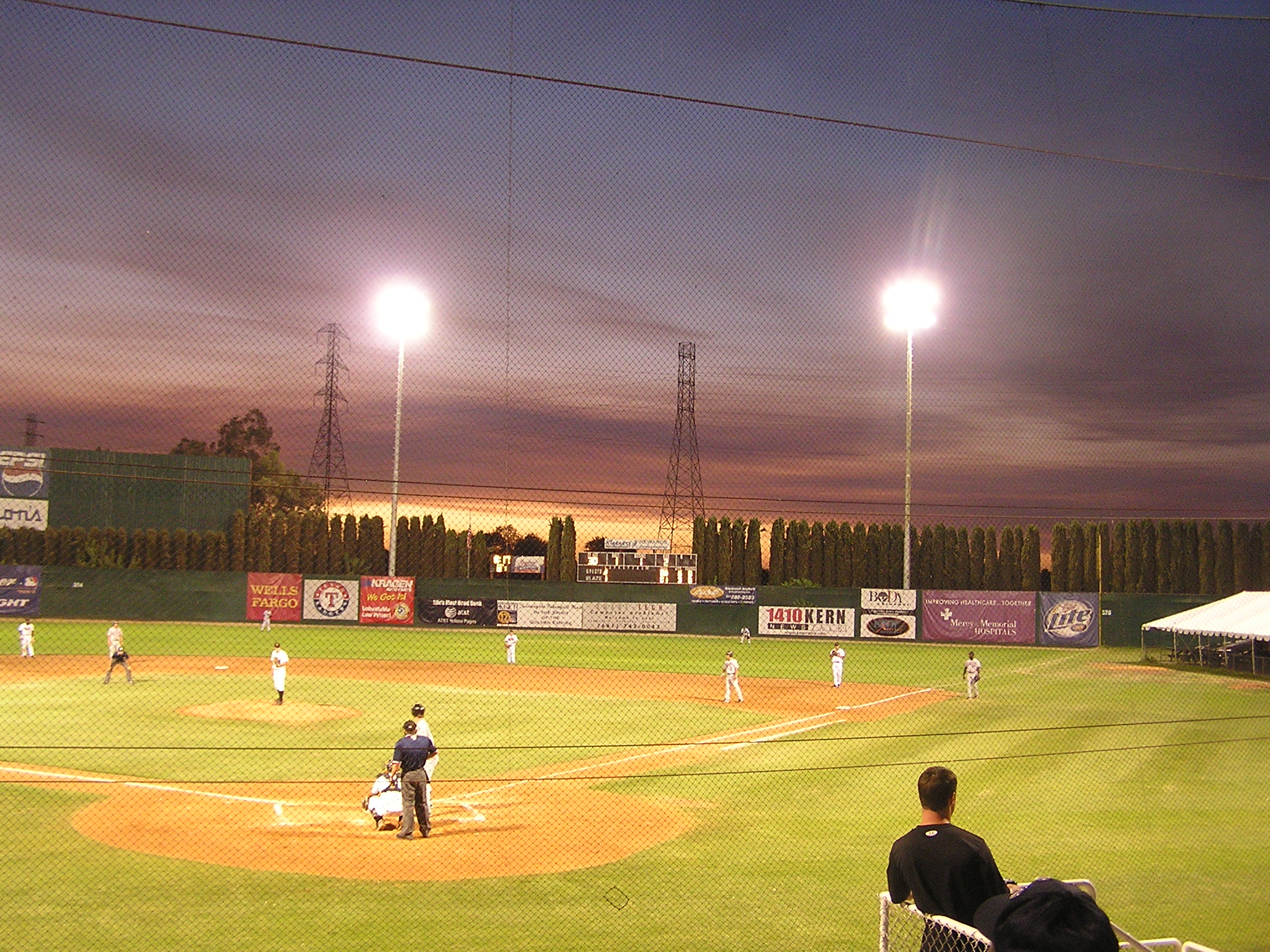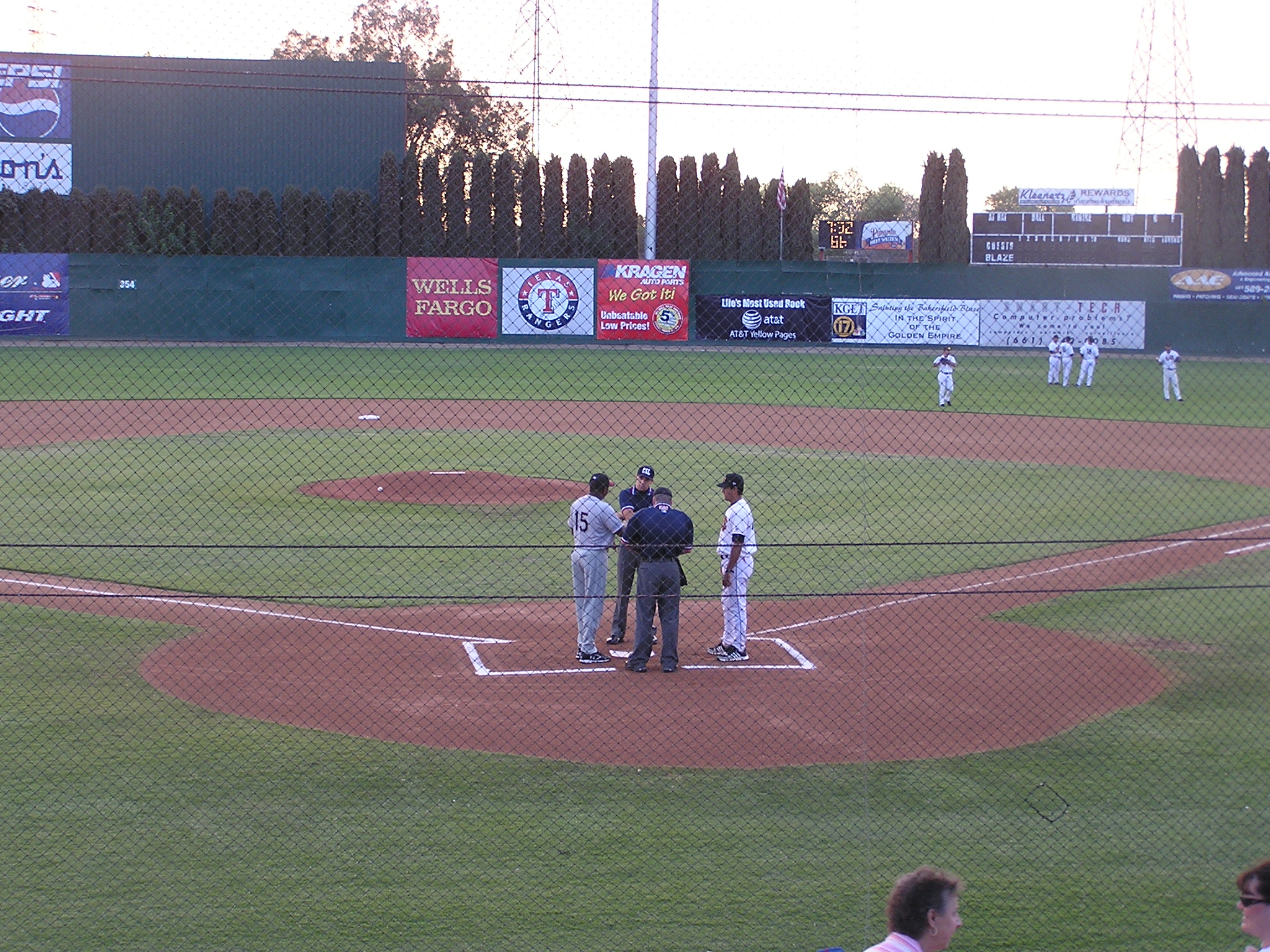 THE LINE UPS
VISALIA OAKS MANAGER :::
15 Hector De La Cruz
BAKERSFIELD BLAZE MANAGER :::
3 Carlos Subero
VISALIA OAKS
2 Pedro Ciriaco ss
12 Derek Bruce 2b
9 Gerardo Parra cf
30 Brando Burgess 3b
7 Bryan Byrne 1b
35 John Hester dh
26 Leyson Septimo rf
5 Cyle Hankerd lf
18 Frank Curreri c
27 Anthony Cupps p
13 Forrest Cory WP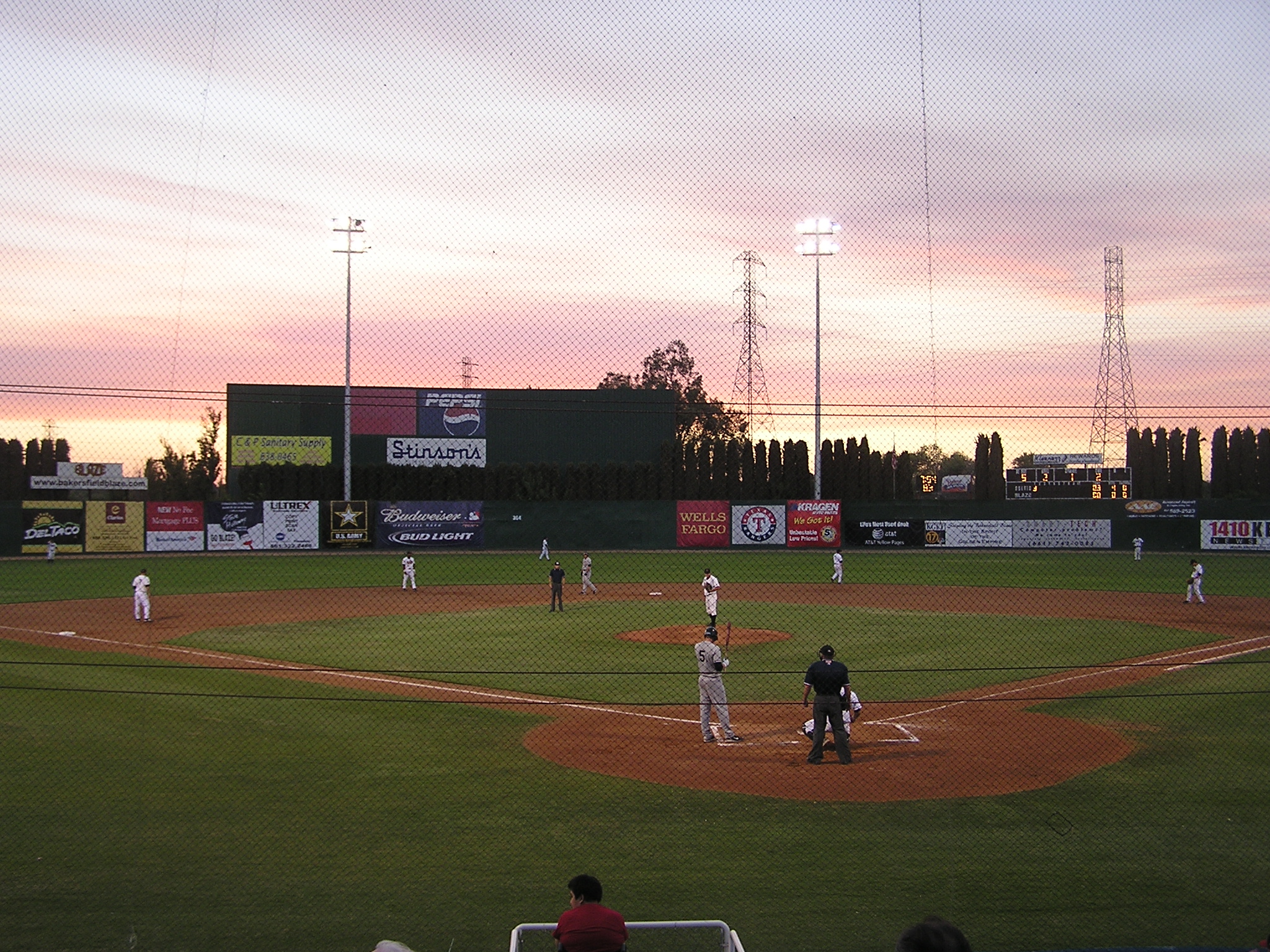 BAKERSFIELD BLAZE
9 Craig Gentry cf
10 Elvis Andrus ss
7 John Whittleman 3b
11 Max Ramirez c
17 Freddie Thon dh
32 Truman Mehl lf
21 Ben Harrison rf
20 Thomas Berkery 1b
1 Matt Smith 2b
24 Andrew Walker p / LP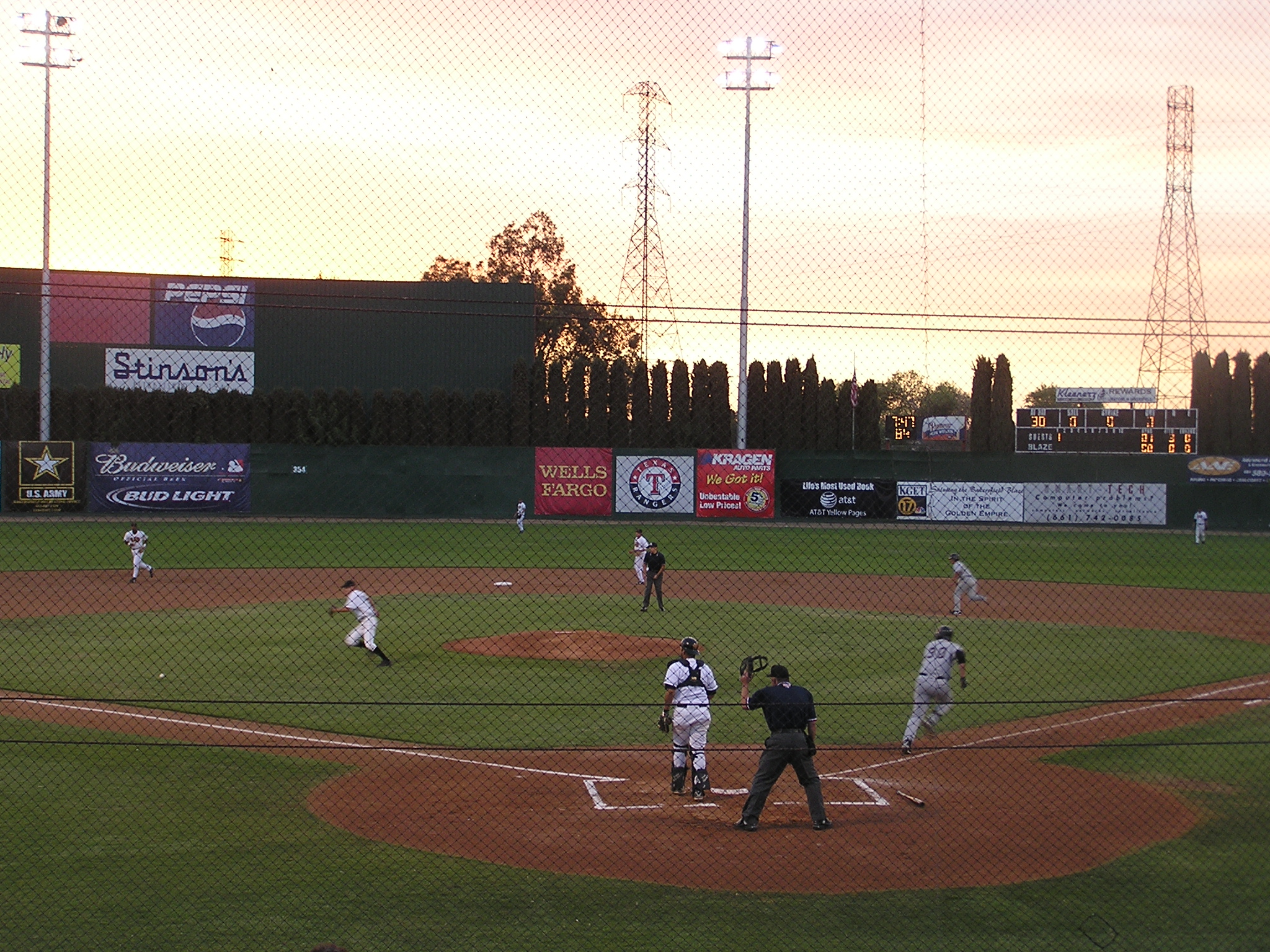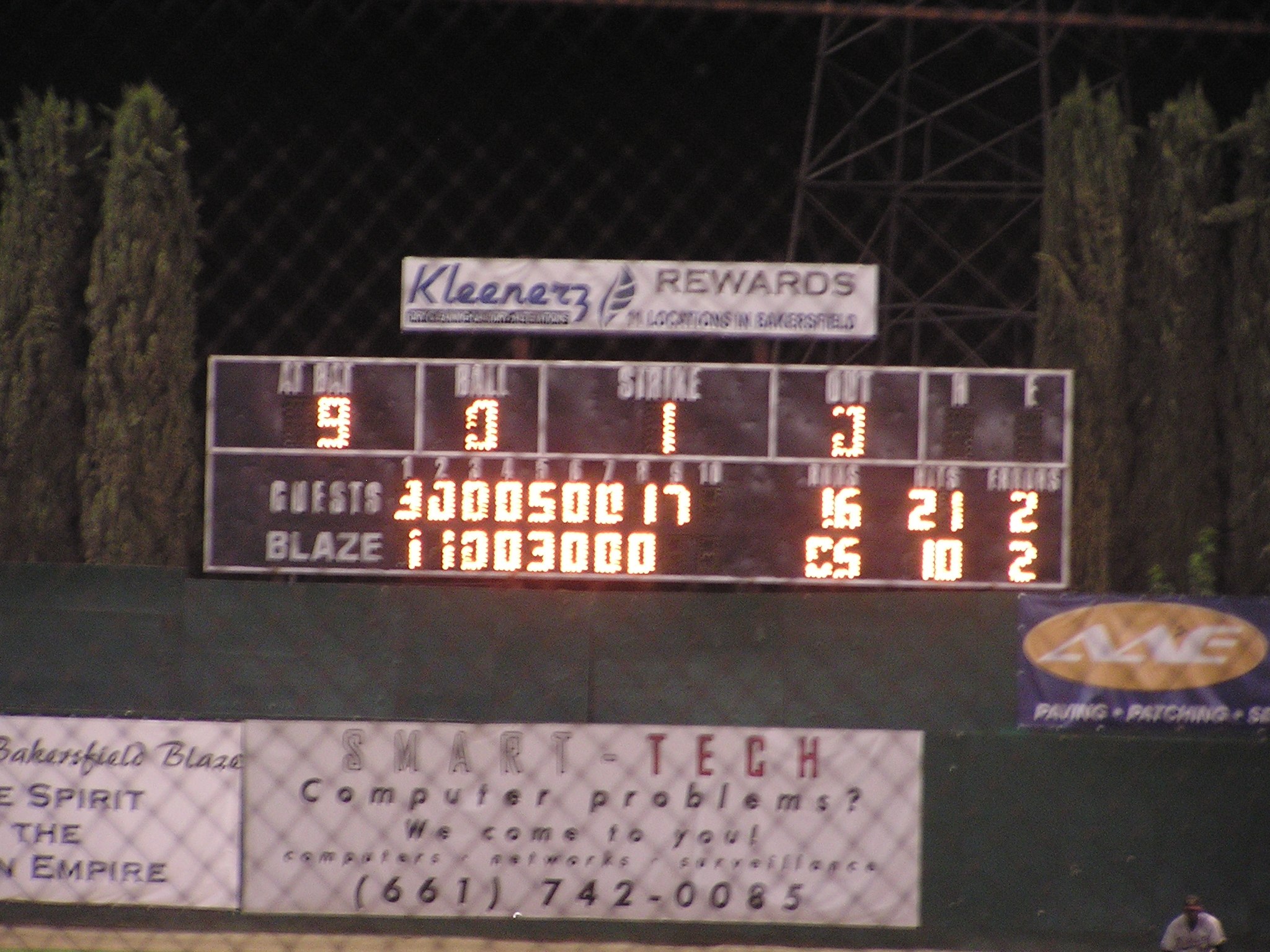 OAKS 300 050 017 16 21 2
BLAZE 110 030 000 5 11 2
TIME ::: 3:36
ATTENDANCE ::: 894
WEATHER ::: 85 COOL
SEND ME AN E-MAIL

LINKS
The Official site of the Bakersfield Blaze
Bakersfield weather from WEATHER.com

© 2000-2012 UNCLE BOB'S BALLPARKS
I AM IN NO WAY AFFILIATED WITH ANY OF THE TEAMS ON THIS PAGE ... THIS
PAGE IS MEANT FOR INFORMATION PURPOSES ONLY.